My first Hungarian Vizsla was Nara: 'Aus Ch Nari Annie Oakley' Since then I have bred 19 litters of Vizslas over a long period of time. I now own my fifth generation of Vizslas.
Fritz who was imported from Germany, was an outstanding gundog. I now have Studly from Petherick Kennels - imported in dam from the famous 'MATAI' kennels of Hungary.
My Vizslas are part of the family and go fishing, camping, shopping or out for a latte.
I have the odd litter and spend a great deal of time with the pups. They are fantastic time wasters and I love every minute of time I waste with them.
I regularly take my Vizslas out hunting and have sold a number of pups to enthusiastic fellow hunters.
Life is so dull without a Vizsla.
Lace Monitor Varanus varius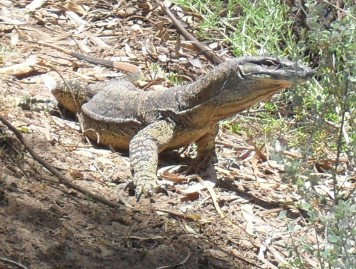 Nara, L & Mischief - Grandmother, Mother, Daughter